Ecobotix Bug Applicator
Ecobotix' bug applicator is a device for dispensing and distributing living organisms, such as different life-stages of beneficial insects and mites.
The device ensures that the distribution of the macrobials is performed in an
optimum way:
Gentle (avoiding damage to the macrobials)

Precise (allowing for highly accurate precision application

Efficient (enabling for an even and completely automated delivery)

Versatile (proving ability to use many types of formulations)

Flexible (lightweight easily movable device)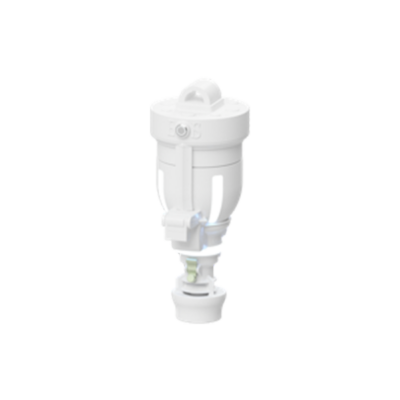 Continuous output rate in the range from 0.1…0.2…35 g/s

Time to empty unit between 10 sec up to 1 hour.

Precision of output rate down to 0.1 g/s

Working width of 3.2m per unit.

An external sensor on each unit ensures material is only dispersed where crops are present

Work with up to 8 units in grouped parallel operation

Select between individual programs for various type of macrobial formulations

Self-adjusting flow control ensures correct dosing rates

Works well with formulations based on vermiculite, buckwheat husks or corn cob grits

Tolerant for formulations containing sawdust, bran, peat, wood chips, rice husks

Tolerant for moist formulations

Built-in cleansing function prevents any clogging of material

Detachable blower head for easy maintenance or replacement

Dynamic adjustment of gap opening ensures compatibility with a large span of particle sizes

Vibration feeding ensures consistent flow even for formulations with relatively low flowability

Gentle stirring of material prevents formation of bridges

Battery monitoring with low-battery detection and alert via app

Wifi-enabled control via EcoApp (Android, iOS*)

Location based precision control of dosing by GPS/GNSS signal**

Online log-generation and automatic documentation of performed treatments via desktop/app**
*Available for iOS only on request.
**Optional on request 
Ensure an accurate treatment of all plants – prevent pest hotspots

Ensure a gentle distribution of the macrobials (avoid injuring or killing of beneficials)

Easy moveable solution – cover large areas even with single or few units (cost reduction on hardware)

Ensure a good working environment – avoid repetitive and strenuous work and limit exposure to allergens

Ability to distribute wide range of macrobials – compatible with multiple formulations

Achieve higher level of biological protection – avoid need for spraying of insecticides (up to 100%)

Achieve more with less macrobials (potential material saving of more than 60%)

Spend less time on treatments (potential time saving up to 80%)
Container volume: 2,7L

Total weight (mount and battery included): 6 kg

Battery specs: LiPo, 3S, 11,1V, 22Ah

Estimated battery time: 7,5 hours (full charge in 1½ hours)

Connectivity: WiFi

Materials: polylactic acid (PLA), polycarbonate (PC), acrylonitrile butadiene styrene (ABS), thermoplastic polyurethane (TPU)
Ecobotix' bug applicator is a device for dispensing and distributing living organisms, such as different life-stages of beneficial insects and mites.
The device ensures that the distribution of the macrobials is performed in an
optimum way:
Gentle (avoiding damage to the macrobials)

Precise (allowing for highly accurate precision application)

Efficient (enabling for an even and completely automated delivery)

Versatile (proving ability to use many types of formulations)

Flexible (lightweight easily movable device)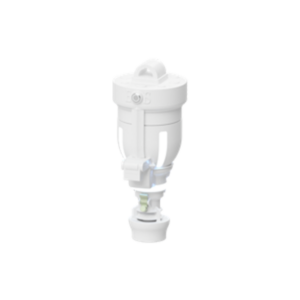 Continuous output rate in the range from 0.1…0.2…35 g/s

Time to empty unit between 10 sec up to 1 hour.

Precision of output rate down to 0.1 g/s

Working width of 3.2m per unit.

An external sensor on each unit ensures material is only dispersed where crops are present

Work with up to 8 units in grouped parallel operation

Select between individual programs for various type of macrobial formulations

Self-adjusting flow control ensures correct dosing rates

Works well with formulations based on vermiculite, buckwheat husks or corn cob grits

Tolerant for formulations containing sawdust, bran, peat, wood chips, rice husks

Tolerant for moist formulations

Built-in cleansing function prevents any clogging of material

Detachable blower head for easy maintenance or replacement

Dynamic adjustment of gap opening ensures compatibility with a large span of particle sizes

Vibration feeding ensures consistent flow even for formulations with relatively low flowability

Gentle stirring of material prevents formation of bridges

Battery monitoring with low-battery detection and alert via app

Wifi-enabled control via EcoApp (Android, iOS*)

Location based precision control of dosing by GPS/GNSS signal**

Online log-generation and automatic documentation of performed treatments via desktop/app**
*Available for iOS only on request.
**Optional on request 
Ensure an accurate treatment of all plants – prevent pest hotspots

Ensure a gentle distribution of the macrobials (avoid injuring or killing of beneficials)

Easy moveable solution – cover large areas even with single or few units (cost reduction on hardware)

Ensure a good working environment – avoid repetitive and strenuous work and limit exposure to allergens

Ability to distribute wide range of macrobials – compatible with multiple formulations

Achieve higher level of biological protection – avoid need for spraying of insecticides (up to 100%)

Achieve more with less macrobials (potential material saving of more than 60%)

Spend less time on treatments (potential time saving up to 80%)
Container volume: 2,7L

Total weight (mount and battery included): 6 kg

Battery specs: LiPo, 3S, 11,1V, 22Ah

Estimated battery time: 7,5 hours (full charge in 1½ hours)

Connectivity: WiFi

Materials: polylactic acid (PLA), polycarbonate (PC), acrylonitrile butadiene styrene (ABS), thermoplastic polyurethane (TPU)